Back to Customers
Customer Success
Kizik Puts Its Best Foot Forward, Grows Business 4X Year-Over-Year With DTC Fulfillment and Logistics Services
20-25%
Decrease in order transit times
4x
Increase in sales year-over-year
4
New services added to its operations
This case study was originally published by Deliverr, which is now part of the Flexport brand. Its contents were edited to fit the voice and tone of the Flexport brand. With Deliverr's services (DTC fulfillment, B2B distribution, and Last Mile delivery) now an integral part of Flexport's end-to-end supply chain and technology capabilities, we're able to arm merchants with logistics superpowers as a single entity of supply chain experts.
There are few brands in the world of apparel and footwear that have been able to disrupt an entire industry quite like Kizik. A bona fide brand born from an 'aha' moment and built on innovative technology, Kizik is revolutionizing the function of footwear – a product category that has otherwise remained the same for centuries.
There's More to Life Than Tying Shoes
Its shoes are known for their hands-free, step-in capabilities designed with inclusivity in mind. But as Kizik stepped into the spotlight and more orders started pouring in, it needed a similar hands-off approach to fulfillment and logistics.
With Flexport's DTC Fulfillment, Trucking, Prep, and Replenishment services, Kizik has been able to focus more on growing and expanding its business rather than tying up loose ends in its fulfillment and logistics operations. This is the story of how Kizik's partnership with Flexport allowed the brand to grow in a multitude of ways, including:
Launch a new product category and additional styles
Decrease order transit times by 20-25%
Increase overall sales 4x year-over-year
Expand to new logistics avenues: B2B Fulfillment, Trucking, Prep, and Replenishment
Open its own brick-and-mortar stores
A Search for the Right Fit
The Kizik brand officially hit the ground running in 2017 after several years of product prototypes, an initial shroud of dissonance from the footwear industry, and an endless search for quality manufacturers. It found its footing after releasing several compelling ad campaigns in 2019 and became the must-have footwear brand for on-the-go millennial consumers nationwide.
Despite the excitement behind its rapid maturation and its ability to overcome initial growing pains, logistics were still tricky for Kizik. It needed a 3PL with the proper operational infrastructure and expertise to provide an exceptional delivery experience. That's when the brand came to Flexport.
"When we stepped foot into one of Flexport's warehouse facilities, everything clicked. We saw inventory from even the smallest brands getting the same level of attention to detail and care as the big brands. Not to mention, their vast warehouse network gives brands of all sizes access to fast shipping. You don't always see that with other 3PLs out there." – Jason Lee, COO, Kizik
Delivering a Hands-off Fulfillment Experience
Kizik and Flexport kicked off their direct-to-consumer fulfillment partnership in June of 2022 with a single style. Hands-free is the name of the game for Kizik shoes, so it was a no-brainer to want a trustworthy partner that allowed the brand to be hands-off. The Flexport team handled the brand's fulfillment operations – from picking, to packing, and shipping orders. Inventory was flowing, trust was growing, and SLAs were consistently being met without Kizik's Operations team needing to jump in.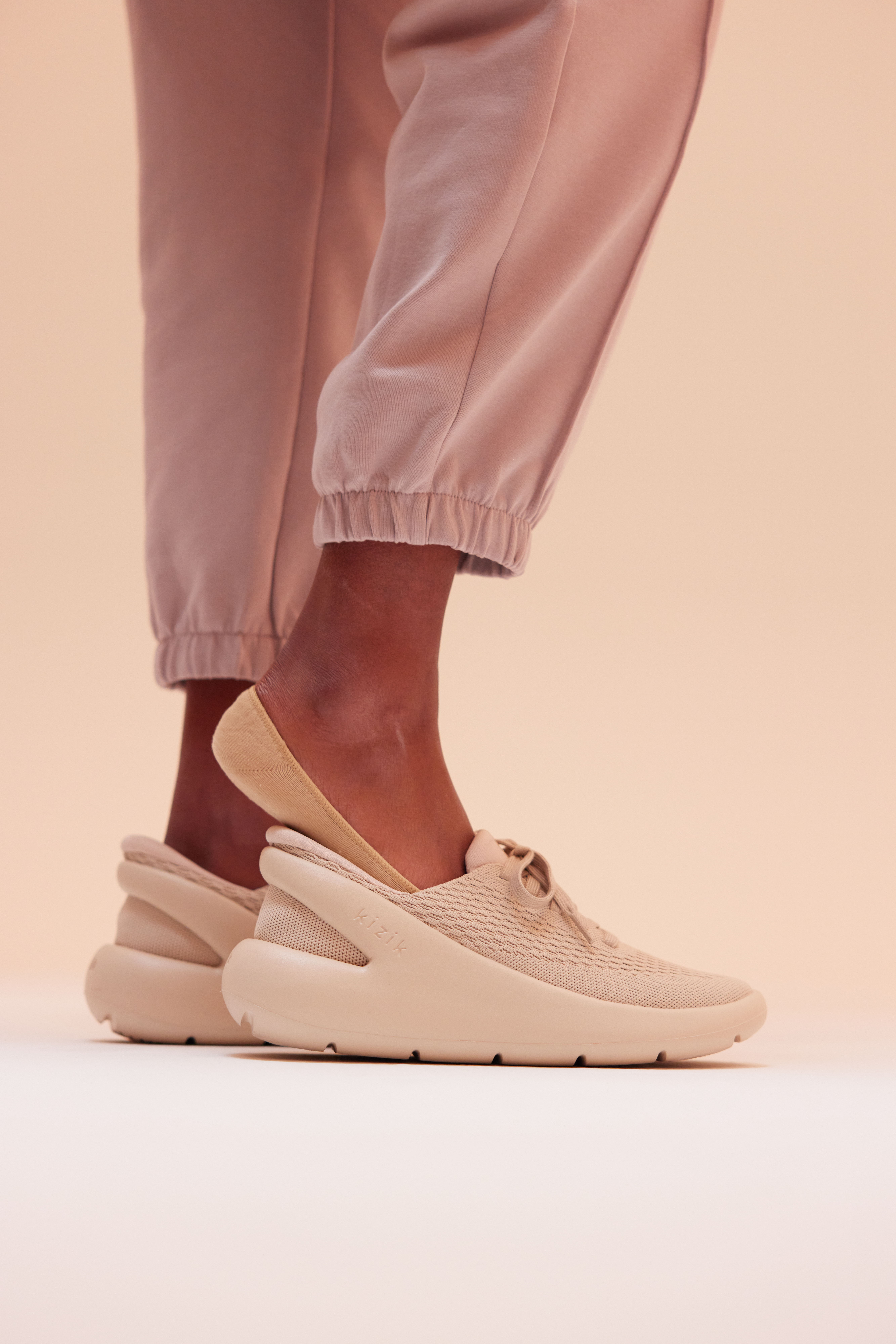 One of the biggest drivers of this successful partnership was Flexport's cross-dock. This enabled the Flexport team to strategically distribute Kizik's products to multiple fulfillment centers close to its customer demand. All Kizik had to do was inbound its products, and Flexport handled the rest.
"With Flexport's cross-dock, we're able to inbound goods and know that they'll be dispersed closest to our customer demand. This ultimately allows us to get our shoes to customers in 3 days or less without our own operations team having to get involved. This has been a game-changer for the Kizik business and a capability we absolutely love." – Jason Lee, COO, Kizik
An All-Inclusive Logistics Strategy for One of the Industry's Most Inclusive Brands
After months of seamless shipping, Kizik entrusted Flexport to scale up its fulfillment operations to include:
More SKUs:

Expanding from one SKU to all six available in its product catalog.

New product lines:

Less time spent on operations meant Kizik could finally develop and launch a kids line (frequently requested by its current customers), in August of 2022.

Additional fulfillment centers:

Introducing more products meant more warehouse space was needed. Kizik soon began distributing inventory to five Flexport fulfillment centers in five major metros.
It was apparent that Kizik's customer demand was growing, but so were its partnerships. The brand now works with well-known accessibility non-profits including Parkinson's Across America, Wounded Warriors, Make-A-Wish Foundation, and even donates shoes to third-world countries and others through its Kizik Share program. It also donated shoes to healthcare workers during the COVID-19 pandemic, launched B2B partnerships, and expanded to new sales channels.
Needless to say, Kizik's product demand was on an upward trajectory. It needed to add to its logistics stack to keep up. And fast. The solution was simple: expand its partnership with Flexport to include Trucking, Prep, and Replenishment logistics services.
"We needed a partner that could scale alongside us and help broaden our logistics avenues and sales channels. Flexport has been instrumental in helping us uncover new areas of growth for the Kizik business – including Trucking, Prep, and Replenishment services – so that we can continue to delight our customers and partners with an exceptional delivery experience." – Jason Lee, COO, Kizik
These additional services enabled Kizik to get goods from port to porch (and everywhere in between) more quickly, efficiently, and compliantly:
With Trucking services

, Kizik could now offload containers at the port and drop them off at Flexport's cross-dock all in the same day. This removed the middle man and led to a seamless inventory receiving process.

With Prep

, Kizik could forward products to Amazon FBA with correct labels attached to avoid non-compliance and support multi-channel growth.

With Replenishment

, Kizik could proactively and rapidly adjust to shifts in demand by replenishing products before they went out of stock. This gave the brand more control over its inventory channel by channel.
Incorporating this holistic logistics strategy allowed Kizik to see a 4x increase in overall sales year-over-year.
Looking Ahead
Now that the fulfillment and logistics foundation is laid, Kizik plans to expand even more in 2023. It will be adding seven new styles to its product catalog, launching a B2B partnership with Nordstrom, and opening its first brick-and-mortar locations. The road in front of Kizik presents endless opportunities, and Flexport is excited to continue helping the brand pound the pavement.
"[. . .] Flexport has been instrumental in helping us uncover new areas of growth for the Kizik business [. . .] so that we can continue to delight our customers and partners with an exceptional delivery experience."
Get started
Start Simple Shipping Today
Enjoy hassle-free, affordable shipping that grows your business.