Back to Customers
Consumer Goods
How Data-Driven Freight Forwarding Revolutionized Simple Modern's Supply Chain
500+
Twenty-Foot Equivalent Units (TEUs) shipped in 2023
6,300%
Increase in Twenty-Foot Equivalent Units (TEUs) since 2016
Simple Modern, a leading omnichannel drinkware and CPG company, offers premium quality products in unique styles. As a mission-driven and values-based company, Simple Modern is built on a culture of generosity that cultivates a unique environment for employees while giving at least 10% of annual profits to communities in need worldwide. Through their partnership with Flexport, they're able to meet demand and delight customers across multiple marketplaces with as little friction in their supply chain as possible.
In 2015, Simple Modern Co-Founder and CEO Mike Beckham noticed three major gaps in the existing stainless steel drinkware category:
There were relatively few players selling on Amazon
The depth and breadth of existing brands' assortments were limited
The competition's price points were fairly high
Thus, Simple Modern was born—offering products of equal quality as the competition but with more generous and valuable options. Just one year later in 2016, Simple Modern broke into the Amazon drinkware market with the unique selling proposition that if a customer can dream of it, they can click and order it.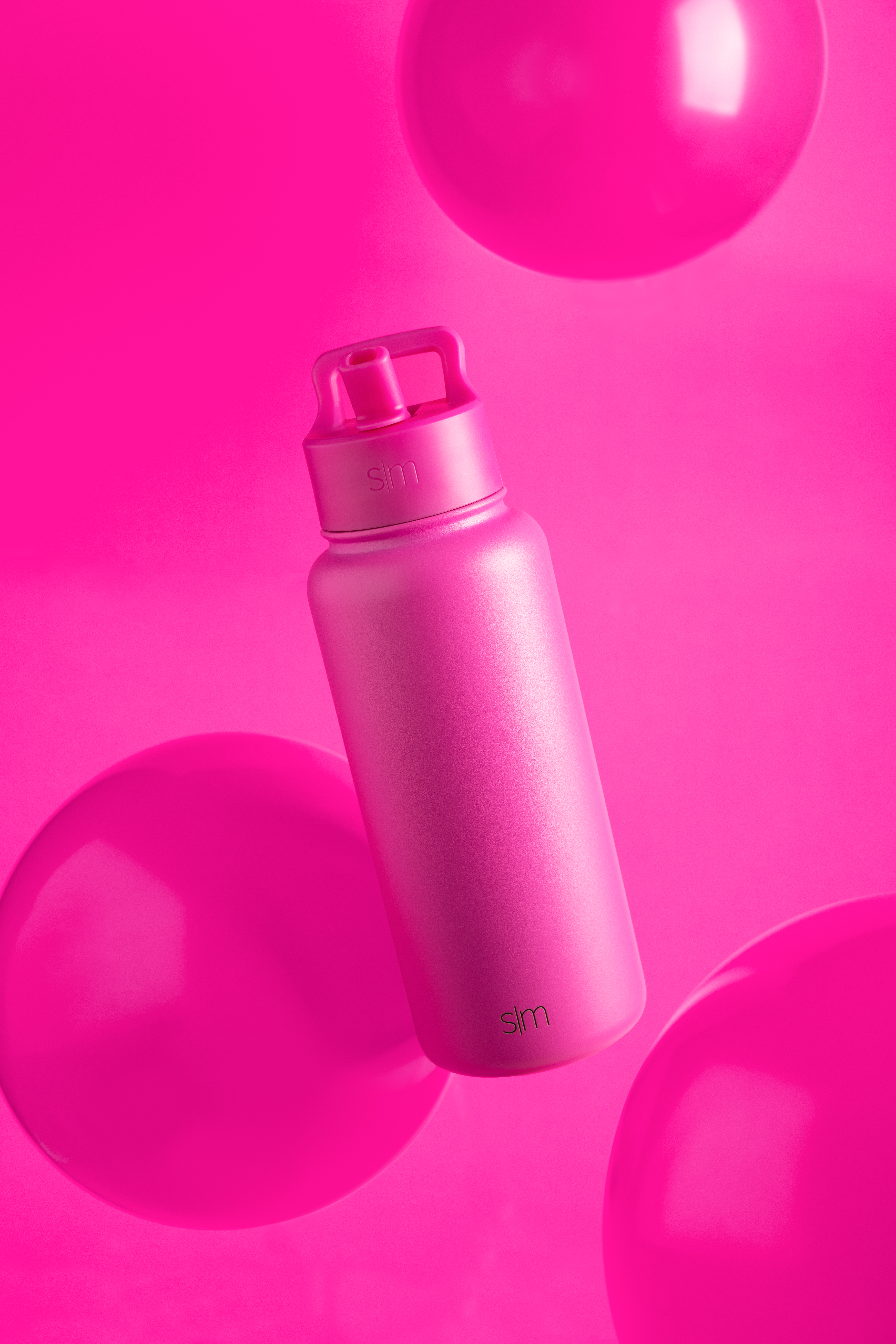 Simple Modern Summit water bottle in color Raspberry Vibes.
Years after launching, generosity and value continue to power Simple Modern's growth. Simple Modern's success on Amazon allowed them to expand their product offering and shift to an omnichannel approach, selling on new channels and establishing partnerships with major retailers. Amidst their rapid growth, however, the team faced a major challenge: navigating the complexities of international freight as a then-small business.
In Search of a Simple Solution for a Complex Process
Broadly shipping from Ningbo, Xiamen, and Tantian, China to Oklahoma, Simple Modern's supplier network is broken up into two primary segments—overseas and domestic. Once the products are shipped into the United States, inventory is sent to Simple Modern's warehouse to fulfill orders across a variety of marketplaces, wholesalers, and Simple Modern's DTC website.
With more customer demand in more places, Simple Modern needed a trusted logistics partner to help ensure seamless shipping of goods. Lee Graves, Chief Manufacturing and Logistics Officer entrusted more traditional freight forwarders to do the job but received little visibility and heightened uncertainty about whether or not their twenty-foot equivalent units (TEUs) would arrive.
It was clear something had to change if Simple Modern wanted to survive, and Flexport was the solution. "Flexport's mission is to help the little guys like Simple Modern who don't know what they're doing with international trade and make it accessible," said Lee. "We spent a long time dealing with convoluted processes from other freight forwarders to be able to confidently say that Flexport provides the least amount of resistance when selling across multiple marketplaces."
It's this combination of a broad supplier network and a strategic freight-forwarding partnership that allows Simple Modern to run a successful omnichannel business.
A Single Platform To Ship and Unlock Insights
When first partnering with Flexport in 2016, Simple Modern forwarded less than 10 twenty-foot equivalent units for the year. Fast forward to today, that number has grown to almost 600. This exponential demand was spearheaded by Simple Modern's partnership with wholesaler Sam's Club which generated the need for 40-50 TEUs all at once.
Simple Modern's first display at Sam's Club.
With Flexport as their freight forwarder, Simple Modern has been able to continuously secure mission-critical TEUs and keep their eager customer base happy with highly anticipated new product launches. In a market where every container matters, Flexport allowed Simple Modern to meet demand at critical sale periods when supply is limited.
"As our growth needs increased, Flexport kept up. We no longer have to worry about where our shipments are or if they'll arrive on time. We can see timely updates in the Flexport platform 24/7." - Lee Graves, Chief Manufacturing and Logistics Officer, Simple Modern
Flexport's system has allowed Lee to manage Simple Modern's TEUs through a single platform, streamlining the facilitation of inbound customs and delivery. With Flexport, Simple Modern can consolidate communications from as many as four vendors into one platform. This single thread of communications helps Lee manage Simple Modern's growth without the headache.
Extending Value and Generosity To The Simple Modern Team
Simple Modern's mission is to provide value and generosity to its customers. So having a freight forwarder that follows the same mindset was important to Lee and team.
Beyond the biweekly calls with his domestic Flexport team, Lee can easily connect with a member of the Flexport origin team based in China. This level of availability can make all the difference when securing a container, even when the ocean freight market is impacted by port strikes or other external factors.
The critical data and information provided through the tech platform have unlocked vast opportunities for Lee. As Lee explains, "Flexport's data-centric technology has truly modernized an archaic industry. The data available at our fingertips is crucial for us to be able to make better business decisions."
Flexport's regular communication coupled with a willingness to educate Lee and team on the intricacies of international freight allows them to focus on more important matters, like growing the Simple Modern business.
"As our growth needs increased, Flexport kept up. We no longer have to worry about where our shipments are or if they'll arrive on time. We can see timely updates in the Flexport platform 24/7."
More Success Stories
Consumer Goods
How Data-Driven Freight Forwarding Revolutionized Simple Modern's Supply Chain
Consumer Goods
Ahead Of The Curve: How CLOUD NINE Boosts Supply Chain Visibility And Employee Headspace With Flexport